Boxer shorts

BOXERSHORT EXCEMA, BOXERSHORT PSORIASISPsoriasis or atopic dermatitis / eczema in the genital and anal region can be very unpleasant, and not only in physical terms. Aside from constant itching and inflammation, it is also…

Slip

No labels or seams on the inside;
Silky soft material for high wearing comfort;
Barely noticeable protection against over clothing;
Actively breathing material;
Attractive design.

Short ladies

The Tepso® "skin active" surface means high wearing comfort;
No friction or irritation of affected regions;
Scratchy seams and labels are on the outside;
Extremely smooth on the skin
Underwear eczema
The best underwear for eczema
Itching, red skin, flaking skin. Anyone with a chronic skin condition such as eczema or psoriasis will recognise these symptoms. The persistent itching, burning sensation or even pain can cause a great deal of discomfort. You'd like a simple solution for that, of course, that will quickly make you feel more comfortable.
Advantages Tepso:
The fabric is extremely smooth.
Tepso has one of the lowest friction coefficients of all solid materials. Comparable of 2 blocks of ice rubbing against each other.
Ointment is not absorbed into the gloves and thus acts more effectively on the skin.
Very breathable.
Mild cooling effect on the skin Soothing to the skin.
Reduces itching.
No heat accumulation.
Clinically proven.
Cream or stains easily wash off. Do not stick to the Tepso fiber.
Inhibits growth of bacteria and fungi.
Clothing does not stick to the skin.
Recommended by dermatologists.
Keeps its shape after many washes.
Seams and labels on the outside.
Made in Italy & Austria.
Very long wearing life. Sustainable.
Fiber with inhibitory effect on bacteria and fungi, without the addition of pharmaceutical substances.
Very little friction. Skin irritation is thus drastically reduced.
Eczema underwear as a solution for itching, swelling and pain
Underwear for eczema sufferers can be worn to relieve itching, swelling, pain and other discomfort caused by chronic skin conditions. Tepso eczema underwear is made from Tepso fibre, which is smoother than cotton gloves for eczema, linen or even silk. This unique fibre has let us develop underwear with very low friction so that you will feel less irritation, swelling, itching and pain. It also has a cooling effect on the skin. So you immediately get the benefit of comfortable eczema underwear. To be used for indications as i.e. genital rash, genital eczema, viginal eczema or vulvar dermatitis.
How does Tepso fibre work?
Tepso fibre has been developed to relieve the discomfort of chronic skin conditions such as psoriasis and eczema. Research and technology have let us develop a fibre with an antibacterial structure. The smoothness of the fibre means there is no friction and that creams are better absorbed into the skin (rather than into the clothing fibres). This lets, the skin responses calm down and it can heal better, making you much more comfortable.
The benefits of eczema underwear
There is very little rubbing when you wear eczema underwear, which reduces irritation and itching. From the moment you put it on, you immediately feel the cooling sensation of the Tepso fibre. The underwear has a good and elastic fit. The labels are on the outside of the clothing for extra comfort.
Thanks to years of development, you have eczema underwear that not only makes you more comfortable but is also washable. Creams and other stains wash out easily. What's more, the underwear keeps its shape after many washes: it has a long useful life.
How do I use eczema underwear?
Eczema underwear gets results if you wear it continuously. It protects your skin against external influences such as fungi and other factors that lead to irritation, itching and inflammation. Of course, it is important to follow your doctor's instructions about the medication you are taking. Eczema underwear can be used in combination with medical creams. This is also important for getting the best effect.
After use, you can wash your underwear according to our instructions.
Washing instructions: You can wash your eczema underwear in the washing machine. We also advise putting the Tepso clothes in a washing net for extra protection against any sharp edges on the washing drum. In general, the fibre and functionality are not affected by the temperature or detergent used.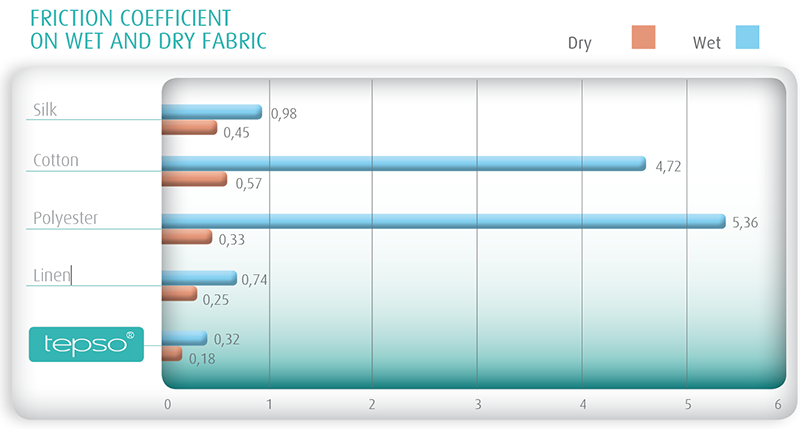 Indications for use of the Tepso® underwear are i.e. vulvar itching, genital eczema, groin eczema or feminine itch, genital irritation, vulvar dermatitis or when you have an allergy to underwear.